Thank you for your interest
in joining West Northamptonshire Council
We are delighted that you are considering joining our team at West Northants Council. Launched on 1 April 2021 following local government reform, we are one of the largest unitary councils in the country and have a unique opportunity to build a better future for our communities. As a brand-new authority, we can shape our journey and destination and even a year in there is still much to do in order to deliver on our priorities and fulfil our ambition.

Our four new roles, Director of Public Health, Assistant Director Education, Senior Advisor, Children's Social Care and Assistant Director Place Shaping are exciting opportunities to join our highly ambitious and engaged leadership team. If you are passionate about public service and comfortable delivering outcomes in a fast-paced, friendly and positive environment we would love to hear from you.

We are proud of our commitment to leading through our Thrive values, Trust, High Performing, Respect, Innovative, Value and Empower. We are building a supportive, collaborative culture in our new organisation where councillors and colleagues work together to make a real difference.

We embrace flexible working which has enabled us to recruit a talented team from across the country. We have developed active staff networks and have a strong commitment to equalities within our organisation and across our communities. We support colleagues to maximise their potential and to take the next step in their careers.

West Northants is a great place to live, with wonderful countryside, heritage, leisure opportunities, and many strong established businesses. We have many strengths including top level sports and of world class industries such as engineering, motorsport, logistics and financial services and as a result we're a place that's attracting some new and exciting businesses looking to invest as part of our regeneration plans. We aim to encourage more organisations to invest and grow in West Northants, helping to springboard us to greater prosperity.

Whilst this is a place that has had past challenges, and like all areas we now face some uncertainty as we emerge from the pandemic, we firmly believe that we have the opportunity to create a bright future. We will use our combined strengths to improve the lives of people who live and work in West Northants, to help the area and help everyone here to reach their full potential. We will be progressing these aims through our "live your best life" initiative supported by work we are doing on anti-poverty, skills and wellbeing.

To achieve our ambition, we know that the Council must work with partners across and beyond West Northants, and we are committed to doing that, to improve the services and focus on the priorities that are most important to our 405,000 residents.

We want to be an authority that puts the environment first and considers the carbon cost in all of our own decision-making. But we also want to encourage and support others to do the same, and to help us shape a cleaner, greener and more sustainable West Northants

Ensuring our children have the best start in life and parents have the right support and environments in which to raise their families is a priority for us. We need to continue making improvements to our children's services and will achieve this by working with the recently established Children's Trust, and with schools to raise educational performance. We are also seizing the opportunity to work closely with health and other partners to achieve better outcomes for our children through wider collaboration and shred priorities based on what children tell us is important.
We believe that all adults should be supported to live their best life. For us this means helping them to live and stay independent and self-sufficient lives for as long as possible. If people are vulnerable or lack a support network, we provide the support they need and we have a philosophy of sticking like glue to those who need help through a crisis and until they are back on a stable footing. We are working with health in more integrated ways every day and we are jointly designing new integrated ways of working so that we can support all our residents to live well, stay well and age well
It's an exciting time for West Northants as we approach our first birthday celebrations in April. If you are inspired by our story and would like to be part of the next phase of our journey, please get in touch with our recruitment partners, Starfish, and have a close look at the information in this microsite.
We wish you every success with your application and look forward to meeting you.
Cllr Jonathan Nunn, Leader of West Northamptonshire Council
Anna Earnshaw, Chief Executive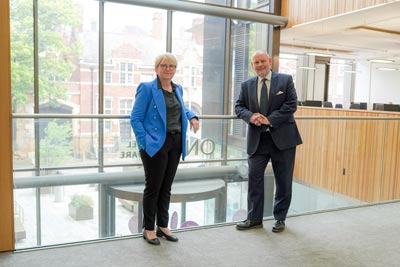 Get started